Windows Server 2022 introduces advanced multi-layer security, hybrid capabilities with Azure, and a flexible application platform. To be a part of this release, secured-core capabilities is brought to help protect hardware, firmware, and Windows Server OS capabilities against advanced security threats. Secured-core server builds on technologies like Windows Defender System Guard and Virtualization-based Security to minimize risk from firmware vulnerabilities and advanced malware. The new release also provides secured connectivity that introduces several new capabilities such as faster and more secure encrypted HTTPS connections, industry standard SMB AES 256 encryption and more.
Windows Server 2022 improves hybrid server management with improved VM management, an enhanced event viewer, and many more new competitive capabilities in Windows Admin Center. In addition to this, this release contains remarkable improvements to Windows containers, such as smaller image sizes for faster download, simplified network policy implementation and containerization tools for .NET applications.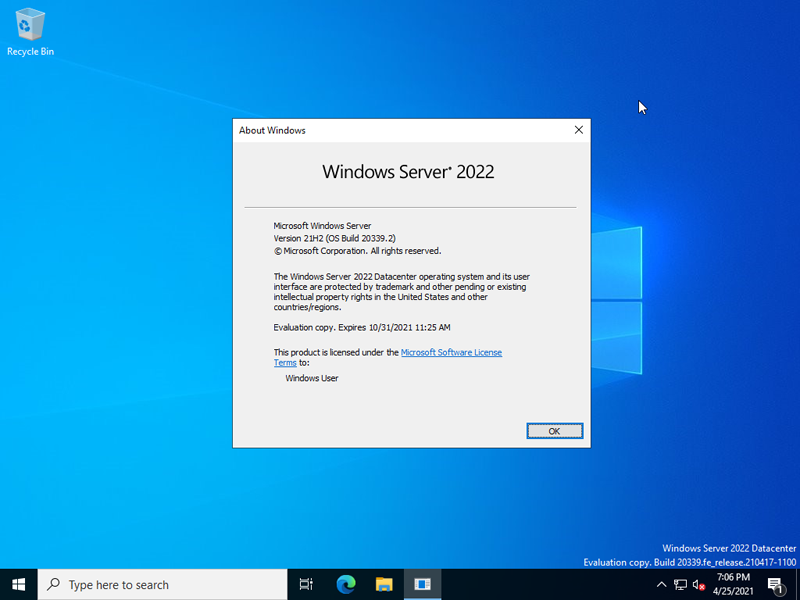 Features:
HTTPS and TLS 1.3 are enabled by default. TLS 1.0 and TLS 1.1 are disabled by default. TLS 1.2 is still there.
AES-256-GCM and AES-256-CCM cryptographic suites are supported for Server Message Block (SMB) encryption and signing.
DNS over HTTPS (DoH) is supported and enabled by default.
Windows Server 2022 brings secured core servers with Secured Core boot protection, hardware root-of-trust, firmware protection and virtualization based security (VBS) for physical security. Secured-core servers build on technologies such as Windows Defender System Guard and Virtualization-based Security to minimize risk from firmware vulnerabilities and advanced malware.
Supports SMB over QUIC capability for safer communications. It's designed for VPN replacement and relies on UDP and TLS 1.3 protocols for faster and safer communication.
Windows Server 2022 comes with Azure Arc to manage and govern on-prem servers within Azure.
Storage Migration Service lets users easily migrate file servers from on-premises to Azure.
Update .NET applications with the new containerization tool in the Windows Admin Center.
Windows Server 2022 comes with an optional Server Message Block compression capability to compress files and speed up network transfers.
Windows Admin Center can be used to remotely manage certificates, deploy containers and track server performance.
Windows Server 2022 supports hotpatching. Hotpatching enables the system to install Windows Updates without the need to restart the system every time. Hotpatching is only available in the Azure edition of Windows Server.
Azure Stack HCI enables the deployment of modern Windows Server applications with Azure Kubernetes Service.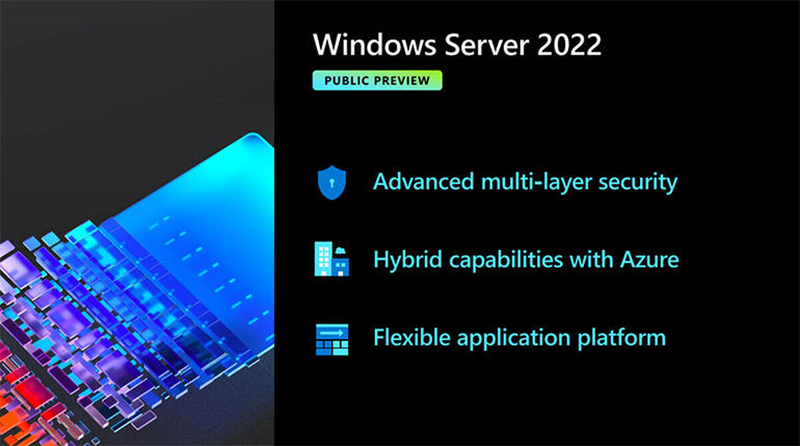 System requirements
Processor: At least: 1.4 GHz processor with 64-bit
RAM: At least: 512 MB
Storage space requirements At least: 32 GB
Other requirements:
Gigabit (10/100 / 1000baseT) Ethernet adapter
DVD drive (if you want to install the operating system using DVD media )
Super VGA monitor (1024 x 768) or monitor with higher resolution
Keyboard and Microsoft® mouse (or other compatible pointing devices)
Internet access (may be subject to a charge)