SuperOps.ai: Enhancing Efficiency for Managed Service Providers
SuperOps.ai: In today's fast-paced world, managed service providers (MSPs) play a critical role in helping companies navigate the complexities of IT infrastructure. However, MSPs often face challenges themselves, such as working with fragmented tech tools that result in complicated workflows and hinder their ability to serve clients efficiently.
That's where SuperOps.ai comes in. With its cloud-native, unified platform, SuperOps.ai is revolutionizing the way MSPs manage their work. By streamlining IT management and replacing multiple tools with a comprehensive solution, SuperOps.ai is empowering MSPs to enhance their efficiency and deliver top-notch service to their clients. In this article, we will delve into the exciting advancements of SuperOps.ai and explore how it is transforming the MSP industry.
Many companies, particularly small and medium-sized businesses (SMBs), opt for third-party IT providers, known as managed service providers (MSPs), to alleviate the challenges of maintaining their IT infrastructure. While MSPs simplify the lives of their clients, they often grapple with their own set of issues, including the complexity of using multiple fragmented tech tools that disrupt workflows, consume valuable time that could be spent serving customers, and impact profitability.
SuperOps.ai, a cloud-native platform, offers a solution that streamlines IT management by replacing up to eight separate tools. Headquartered in Santa Monica, this startup has recently announced a significant milestone—the successful closure of a $12.4 million Series B funding round. The round was led by Addition and March Capital, with participation from Matrix Partners.
The capital injection is earmarked for research and development, with a focus on enhancing SuperOps.ai's platform through the integration of more AI capabilities. This includes the introduction of a predictive intelligence layer designed to empower MSPs to proactively address client issues, ultimately saving time and resources.
With this latest funding round, SuperOps.ai has now raised a total of $29.4 million since its inception in 2020. Over the past 12 months, the company reports an impressive 300% growth in its customer base, underscoring the value and relevance of its innovative platform.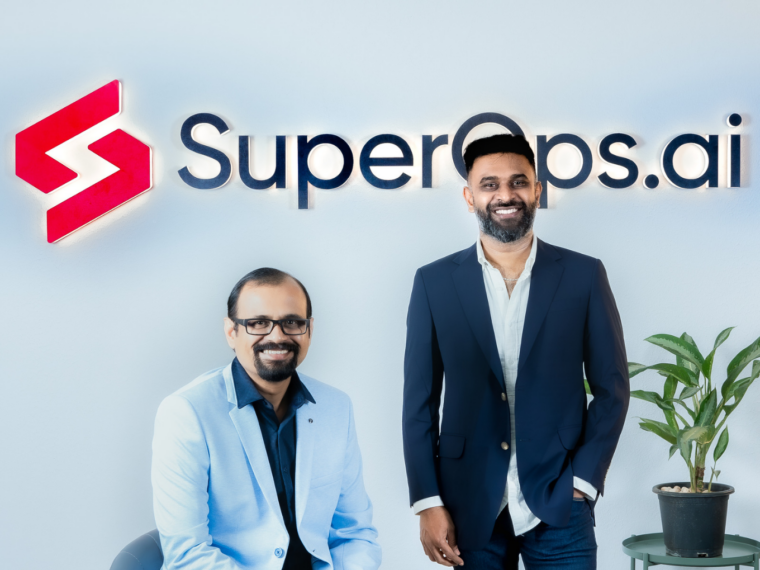 Arvind Parthiban and Jayakumar Karumbasalam, co-founders of SuperOps.ai, boast an impressive collective experience of over 20 years in developing tech products. Their journey began by focusing on software tailored for managed service providers (MSPs). Fast forward two decades, and the duo found themselves revisiting the tech-for-MSP arena. They soon realized that, despite the significant leaps in technology overall, the tech-for-MSP sector had remained largely stagnant.
Parthiban explains, "Most of the tools were originally designed for the on-premise era and have not evolved, still being unwieldy, bloated, and challenging to manage. Many legacy players in the field had acquired adjacent tools and attempted to stitch them together, resulting in solutions that lack efficiency and user-friendliness."
MSPs are tasked with utilizing various tools to serve their clients effectively. These tools include Professional Services Automation (PSA) for managing service desks, ticketing, invoicing, quoting, and contract management. Additionally, they rely on Remote Monitoring and Management (RMM) tools to remotely oversee client devices and address issues.
On top of these essentials, MSPs require IT documentation, project management, and network monitoring. The challenge arises when these tools don't seamlessly communicate with one another, forcing MSPs to switch between tabs and contexts while resolving issues, adding a layer of time-consuming friction to their workflow.
Recognizing the opportunity to alleviate challenges faced by MSPs and enhance their operational efficiency, Parthiban and Karumbasalam embarked on a mission to create a unified platform. This initiative was informed by extensive conversations with 450 MSPs.
The result of their efforts is SuperOps.ai, an automation-driven unified solution that combines PSA (Professional Services Automation) and RMM (Remote Monitoring and Management) functionalities, seamlessly integrating IT documentation, project management, and a recently introduced network monitoring feature.
SuperOps.ai's platform offers the remarkable ability to replace approximately eight separate tools, significantly simplifying the MSPs' toolset. The platform's AI capabilities play a pivotal role by effectively eliminating false alerts. As SuperOps.ai continues to evolve, its AI is poised to further automate tasks, predict potential issues, and ultimately resolve many of them proactively.
By consolidating all the necessary data and information within a single platform, SuperOps.ai empowers MSPs to streamline their workflows. For instance, they can swiftly transition from a support ticket to addressing the specific asset that requires attention, enhancing their efficiency and responsiveness.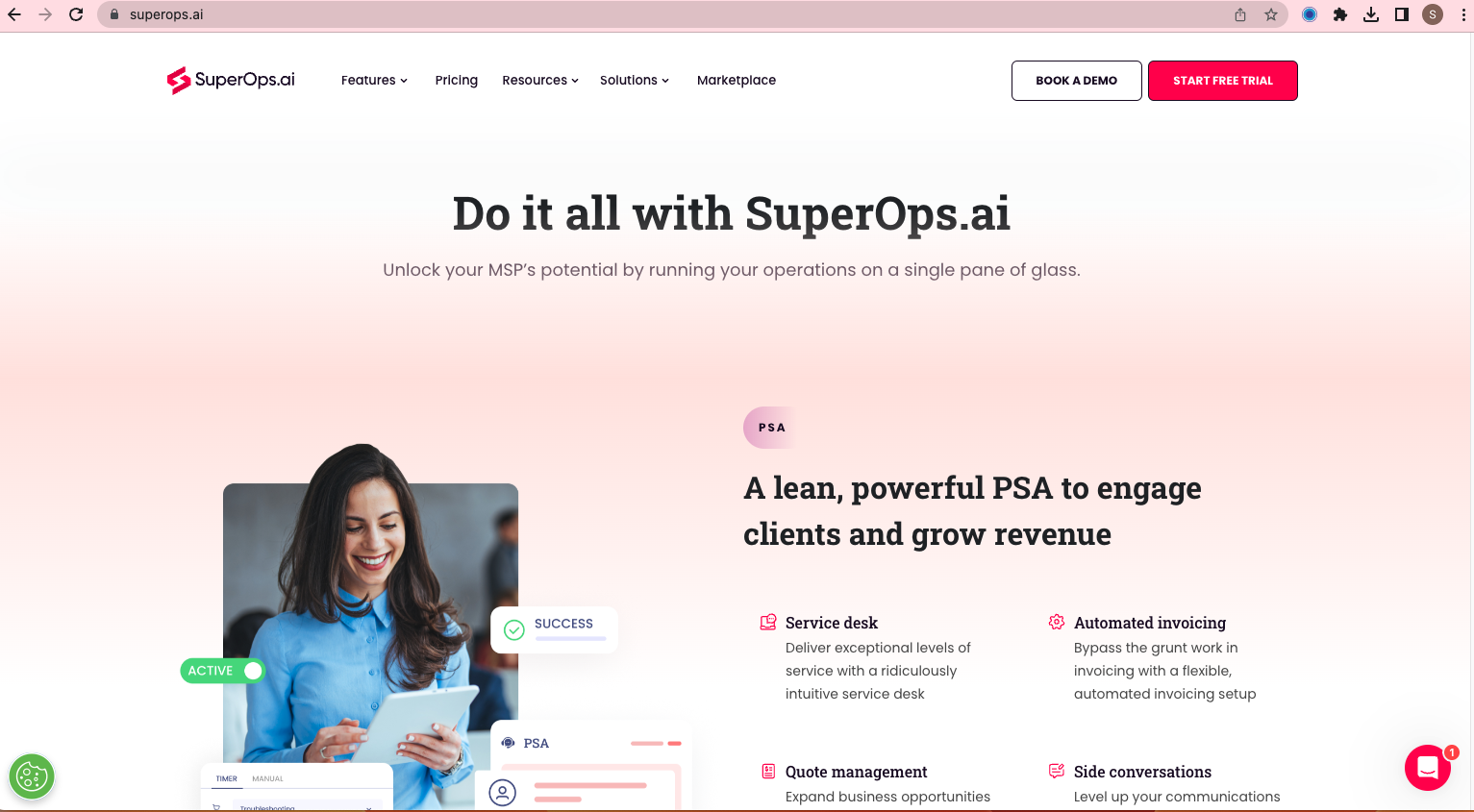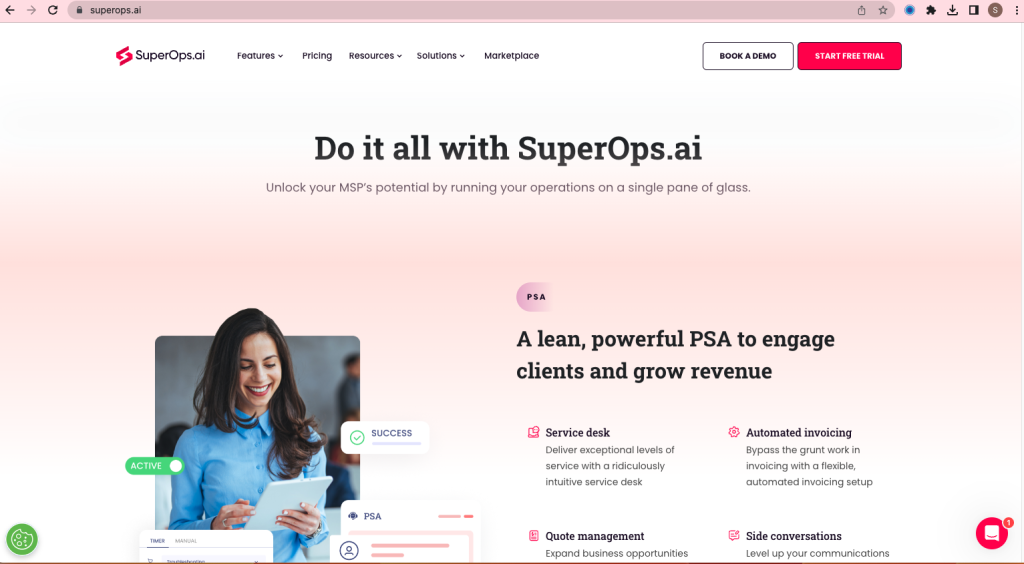 SuperOps.ai caters to a diverse clientele, encompassing various types of MSPs and IT teams. These clients typically share a growth-oriented approach, aiming to enhance their revenue and profitability. Among them are smaller MSPs with teams of fewer than 5 members and more established providers with offices spanning multiple cities.
Parthiban highlights the diversity within this clientele, stating, "Some operate as break-fix shops, while others provide extensive IT infrastructure monitoring and management support. The majority of businesses we serve fall into the SMB category, a segment that has historically been underserved by technology providers."
One notable success story exemplifying the transformative impact of SuperOps.ai is Selectgroup, a 33-year-old MSP based in the United Kingdom. SelectGroup sought to break free from reliance on legacy tools like Datto and Syncro. Matthew Fenton, Director of SelectGroup, joined SuperOps.ai's beta stage following the launch of remote desktop control. Shortly thereafter, Fenton faced a task that required connecting to six computers to make necessary setting changes.
In the pre-SuperOps.ai era, this process would have consumed hours, involving the tedious steps of connecting to the customer server and navigating from the server to the local computer using DNC. The majority of this time would have been spent on the phone, leaving little room for other tasks or customer assistance.
However, with SuperOps.ai, Fenton seamlessly connected to all six computers remotely and utilized SplashTop, a SuperOps.ai integration for remote access, to swiftly adjust the settings. This transformative experience illustrates how SuperOps.ai empowers MSPs to work more efficiently, enhance customer service, and streamline their operations.
SuperOps.ai faces competition from established players in the MSP software space, including Kaseya (which owns Datto), ConnectWise, NinjaOne, Syncro, and Atera. Some of these, like Kaseya, Datto, and ConnectWise, have a long history in the industry.
Parthiban notes that "companies like these have typically built their platform piecemeal, or have acquired smaller players and forced these separate tools to fit together." In contrast, newer entrants like Syncro and Atari, according to Parthiban, offer solutions that are more complex and less user-friendly compared to SuperOps.ai.
One key differentiator for SuperOps.ai is its business model. While companies like Kaseya often rely on multi-year contracts with auto-renewal clauses that can be challenging for customers to terminate, SuperOps.ai offers a more flexible approach. They provide an SaaS model that allows customers to choose between monthly or annual plans and cancel anytime they wish.
In addition to its innovative platform and business model, SuperOps.ai has welcomed Juan Fernandez, the author of "The MSP Handbook" and an industry veteran, as its channel chief. Fernandez's role is to work closely with SuperOps.ai's MSP clients, ensuring they derive maximum value from the platform and receive exceptional support. This strategic move further emphasizes SuperOps.ai's commitment to customer satisfaction and success.
One of the primary reasons behind SuperOps.ai's recent funding round is its significant investment in research and development (R&D). According to Parthiban, a substantial portion of this investment is dedicated to advancing their AI capabilities. He emphasizes that they view AI as more than just a feature; it's a fundamental technology that underpins their platform's functionality.
Looking ahead, SuperOps.ai's AI framework holds great promise. It's poised to reduce the volume of repetitive and recurring tickets by learning from historical responses, drawing from its extensive knowledge base, and gathering information from its Remote Monitoring and Management (RMM) system.
This learning process will enable the platform to generate customized, accurate responses for technicians to review before sending out, enhancing efficiency and service quality. Additionally, the AI will contribute to asset maintenance by monitoring historical data to predict potential breakdowns and recommend optimal times for maintenance.
In a statement regarding March Capital's investment, Vice President Ravi Rajamony expressed enthusiasm for the partnership with SuperOps.ai. He highlighted SuperOps.ai's role in empowering the MSP market through its secure, cloud-native, and AI-driven platform, covering Professional Services Automation (PSA), Remote Monitoring and Management (RMM), IT documentation, project management, and network management. Rajamony praised SuperOps.ai's team for their domain expertise and customer-centric approach, positioning them well to drive innovation in the MSP market, which has been historically underserved.
Conclusion
In conclusion, SuperOps.ai is a game-changer for managed service providers (MSPs) seeking to optimize their operations and improve client service. By offering a unified platform that streamlines IT management and replaces multiple fragmented tools, SuperOps.ai empowers MSPs to work more efficiently, saving valuable time and resources. With its AI capabilities and continuous development, SuperOps.ai is poised to further revolutionize the industry, automating tasks, predicting issues, and providing comprehensive solutions. As the demand for MSP services continues to grow, SuperOps.ai is at the forefront of enhancing productivity, enabling MSPs to thrive in today's ever-evolving technology landscape. Experience the future of IT management with SuperOps.ai.
What are your overall impressions of SuperOps.ai and its potential impact on the MSP market? Are there any specific features or capabilities you would like to see in future MSP management platforms? Share your insights below.